This review provided by:

The CRN Test Center's 2014 Products Of The Year
Category: Display
Winner: ViewSonic TD3240
The ViewSonic TD3240 is one of the most beautiful displays we've ever seen. The 31.5-inch unit is covered edge-to-edge with 7H-rated scratch-resistant glass, suiting it for digital signage applications in education, retail, transportation centers and other high-traffic kiosk locations. This sturdy unit weighs nearly 36 pounds without the stand, thanks to an all-metal cabinet and 10-point projected capacitive screen and 1,920 x 1,080 IPS panel. It's the largest in ViewSonic's digital signage line, which also includes 23- and 27-inch models.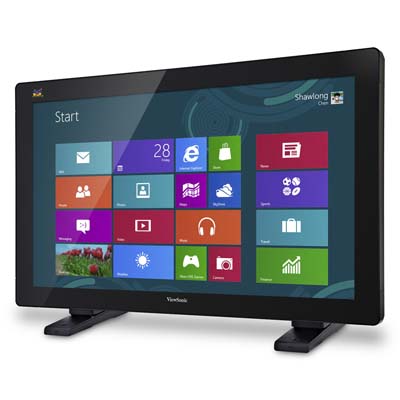 Out of the box, the TD3240 passed our standard LCD display tests with flying colors. The white saturation and black-level tests were nearly perfect, and gradients of color and black-and-white exhibited no banding. Sharpness tests were all within acceptable parameters. The TD3240 provides inputs for VGA, DVI, audio in, RS-232 in and out, a USB host port for the touch module, and a direct AC power input, all oriented downward for easy wall mounting. The unit's control buttons are located in the rear, out of view of passersby. A pair of 10-watt downward-firing stereo speakers provides adequate sound that's free of distortion but not very loud. The TD3240 lists for $3,059. The 27-inch version lists for $849, the 23-inch model for $619 and the newest 22-inch unit for $489. All include a three-year warranty. A two-footed stand is optional on 32- and 27-inch models. Wired remote is sold separately.
Click here for more details and specs on the TD3240